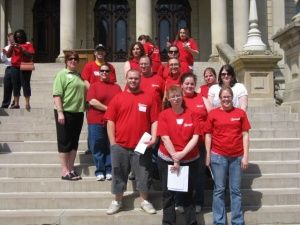 Five individuals nominated by Mid Michigan Community Action were recognized for their dedication to children and families and involvement with the agency's Early Head Start, Head Start and preschool programs.
The Michigan Head Start Association awards individuals and organizations in communities whose outstanding efforts have made a difference to Head Start programs and the children and families they serve. The Take Flight Awards were presented to the honorees at the Radisson Hotel in Lansing as part of the Association's Parent Education Day.
Those honored included Maria-Eloisa Bernas, M.D. of Mid Michigan Medical Center-Clare, Heather DuBois of the Clare/Gladwin Regional Education Service District, Victor and MaryAnn Dipzinski owners of Vic's Grocery in Clio, Michigan and Jeanie Mishler, principal at the Clare Primary School.
Bernas was recognized for her dedication to quality health care she provides the children of the community. She has provided health care for Head Start program's children for many years. Bernas has also worked closely with the Head Start coordinators to discuss current health issues and concerns.
"Dr. Bernas understands the importance of primary and preventative healthcare for our community's youngest members," Joleen Golden, Mid Michigan Community Action (MMCAA) Early Childhood Services Director, said. "With her help, children in our program are healthy and ready to learn."
DuBois was recognized for her involvement with programs benefiting children and families of the community. She oversees the Early On program at the RESD, but other involvements include providing community playgroups, serving on numerous community service groups and Great Parents, Great Start collaborative where she spearheaded a teen parenting program.
"Heather is dedicated to providing the best of all possible to the children and families of Clare and Gladwin counties," Golden said. "She goes over and above to promote children's programs and services as well as advocating for families."
The Dipzinski's were recognized for their support at community events. Their donations of tables, chairs and canopies, assistance in purchasing food for the events at cost and their time is all greatly appreciated.
"Victor and MaryAnn volunteered initially because their daughter works for the agency and she asked if they could help," Golden said. "Now I think they keep volunteering because they enjoy what they are doing for the families that attend the events."
Mishler was recognized for her commitment to children and her leadership in the community. She has served on the MMCAA Policy Council Board working with the Head Start program to ensure the children have a smooth transition into kindergarten and has again worked with the Agency to provide age appropriate activities during the school carnival held at Clare Primary School in March.
"Mrs. Mishler is an advocate for all children," Golden said. "She goes above and beyond to make sure all children are included in whatever event it may be."
"We are truly appreciative of the contributions made by these individuals and families who give time, energy and resources to impact our programs and the lives of young children."