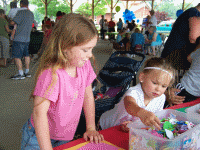 Sunny skies, floating bubbles, and music made for a fun-filled community celebration Friday at Shamrock Park in Clare.
Mid Michigan Community Action's seventh annual Fun Day in the Park brought families together for a day of fun that included face painting, bubble making and painting activities.
Children kept busy with police car and fire truck tours while parents visited sponsor booths where they received information about community services within a stress-free environment.
"This day is not only about having fun but for parents to find out about resources available for them and their children," said Joleen Golden, Mid Michigan Community Action Early Childhood Services Director.
The Clare Masonic Lodge provided the MI-Chip service again this year. This program was used to create a child ID packet which included their child's fingerprints, picture, video clip and other vital information placed on a computer disc for parents to take with them. More than 50 children took part in the service.
"We are so happy to have the Mason's back with MI-CHIP," said Golden. "The information on those discs could possibly save a life."
Mid Michigan Community Action and Northeast Michigan Community Service Agency held open enrollment for Early Head Start and preschool for the 2010-2011 school year. Parents received information on local preschool programs and enrollment requirements.
"Children really benefit from their experiences in preschool and are better prepared when they get to kindergarten," Golden said. "It's great that families are taking advantage of these programs."
More than 20 prizes were given away at this year's Fun Day in the Park. Isabella Bank provided two bikes that were raffled at the event. One lucky boy and girl took the bikes home. Families also enjoyed free hotdogs, chips, popcorn and drinks.
"It's wonderful to have such community oriented sponsors and organizations that are willing to take the time to come out and donate goods and services," Golden said.
Mid Michigan Community Action holds Fun Day in the Park each year to allow families a day of free food and fun in the park while receiving information that may benefit the family as well. More than 350 people attended this year's event.
Registration for Early Head Start and the preschool programs is still available. Contact Mid Michigan Community Action toll free at 1-877-386-4406 or visit www.mmcaa.org for more information.
Fun Day in the Park sponsors and organizers included: Mid Michigan Community Action Agency, Clare City Water Department, Clare County Arts Council, Big Brother Big Sisters, Women's Aid, Listening Ear, 1016 Recovery Network, 4C of Central Michigan/Great Start Regional Resource Center, Chippewa Nature Center, Clare County Department of Human Services, Michigan Student Aid, Rodnick Chiropractic, NEMSCA Head Start, Great Start Collaborative, CGRESD Early On, Clare Fire Department, Clare Parks and Recreation, Isabella Bank, Mid Michigan Medical Center-Clare, Clare Masonic Lodge # 404, Mobile Medical Response, Clare Parks and Recreation, St. Cecilia Schools, Michigan Community Blood Center, Mid Michigan Community College, Hope Pregnancy Center, Clare County Historical Society, and Clare Family Fitness Center.