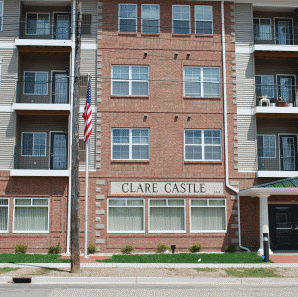 Fourth and Beech was once a place where you could get an ice cream cone on a hot summer day. Clare County residents who can recall those bygone days of getting ice cream at Thayer's Dairy are now moving into ClareCastle, a newly opened senior housing complex that sits on the old site.
Located at 144 W. Fourth St., ClareCastle is an affordable limited income community featuring a relaxed feel and spanning more than 35,000 square feet over four levels. A total of 24, two bedroom residential units are included in the upper levels of the complex. Each unit features a private balcony, fully equipped kitchen, full size washer and dryer, individual central AC and heat, internet access, cable TV hookup, carport, 24 hour emergency maintenance and personal emergency assistance.
"We are thrilled to not only offer affordable housing to Clare seniors but to also have it completed ahead of schedule," said Mid Michigan Community Action Executive Director Jill Sutton. "We already have residents moved into units, enjoying the conveniences of the community room and living in downtown Clare."
Clare County Senior Center will be offering free lunch to eligible seniors at the site and utilizing the kitchen to prepare meals for home bound seniors in the county. Clare County Senior Services has settled into the new location.
"We are glad to have Clare County Senior Services in the building," Sutton said. "It will be a good social place for seniors to visit over a hot meal."
Fourth Street Senior Housing LDHA LP, a partnership between Mid Michigan Community Action and P.S. Equities of Mount Pleasant, has provided the four-story complex which houses the Clare County Senior Center on the main floor and the living units on the second, third and fourth floors.
ClareCastle is an attractive, affordable and convenient living choice for area adults over 55 years of age. The complex is easy walking distance to shops, restaurants, banks, medical facilities and the post office.
"We are delighted to work with the City of Clare and Clare County on this project," said Sutton. "We would not be where we are today without the dedication and vision of all involved."
ClareCastle will be hosting an open house later this summer for the community to tour the new facility and see what programs are available to seniors at the new Center.
The property for the project was provided by Mid Michigan Community Action. Demolition, environmental and site preparation was financed through a Housing and Community Development Fund grant to Mid Michigan Community Action. Financing was provided by Isabella Bank and the Michigan State Housing Development Authority. The site has also been designated as a Brownfield Project which makes it eligible for Michigan Business Tax credits.
There are still units available for rent in this beautiful downtown complex. Those interested can call 989-953-7770 or visit www.mmcaa.org/clarecastle.html for more information.
Mid Michigan Community Action Agency is a non-profit, human services agency serving Bay, Clare, Gladwin, Mecosta, Midland and Osceola Counties since 1966.