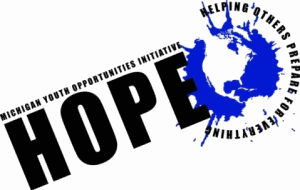 Mid Michigan Community Action is pleased to announce its partnership with HOPE: Helping Others Prepare for Everything, a non-profit organization serving foster youth in Clare, Gladwin, Midland and Isabella Counties.
Since 2006, HOPE has been assisting foster youth make the transition into adulthood. Most young adults leaving home for the first time can rely on their parents for good advice, living skills and financial help. But teens "aging out" of foster care often have no one to turn to.
"We are thrilled to be partnering with HOPE," said Jill Sutton, Mid Michigan Community Action Executive Director. "These are the youth that seem to slip through the cracks and HOPE is making great progress in preventing that from happening."
HOPE is part of the Michigan Youth Opportunities Initiative that works in conjunction with the Department of Human Services in supporting youth ages 14-23 who are in foster care.
In Michigan, more than 500 foster care teens "age out" of the foster care system each year. Once they reach 18, the state and foster care system are no longer required to support them.
The HOPE Mentoring program brings young people together with a caring individual who will encourage and support a healthy transition to adult life.
"Mentoring is both a challenging and rewarding opportunity," Sutton said. "It guarantees the youth there is someone who cares about what is going on in their life."
HOPE works with those transitioning by teaching them life skills including responsibility, financial security, and furthering their education.
The HOPE Youth Board is organized and actively run by youth and meets monthly. The board addresses issues faced by foster youth and identifies strategies to make transitioning an easier task.
The board also networks with community members to find useful resources for the youth to access support for their various needs.
HOPE is actively looking for mentors, volunteers, professional development for the youth, discounts from local businesses for the youth and donations.
"Non-profit organizations rely heavily on volunteers," said Sutton. "These are youth who need someone to believe in them. One person can make a difference."
Visit www.wearehope.net for more information.