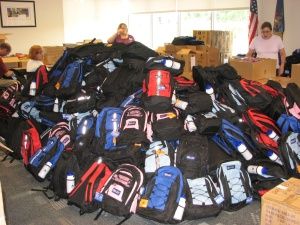 Going back to school is an exciting time for children. Most children worry about whether they will like their new teacher or not. Others will worry if they will have the supplies they need or appropriate clothes for school because their family cannot afford the expense.
Mid Michigan Community Action was pleased to offer back to school help for families that were struggling with expenses to provide needed supplies for their children heading back to school.
"Every child deserves a good start to the school year," said Sharon Wainman Mid Michigan Community Action Outreach Services Director. "We were able to help those families who couldn't otherwise get the needed supplies and also helped out with some new clothes as well."
Six hundred backpacks have been filled with school supplies and have found a child to go back to school with. Those eligible for the program received a backpack for their school age child and a clothing voucher for new clothes.
"Thanks to the American Recovery and Reinvestment Act we were able to offer this program again," Wainman said. "It's been many years since we have had the funds to support this program. I'm glad that we could provide a much needed service to these children and their families to make the back to school transition less stressful."
The backpacks were distributed to eligible children in Bay, Clare, Gladwin, Midland, Mecosta and Osceola counties.
Staff and volunteers from Mid Michigan Community Action collected the backpacks and supplies at the outreach offices and helped fill them so they would be ready for the first day back to school.
"Six hundred backpacks were a lot of backpacks to fill," Wainman said. "I'm glad we were able to offer this program again and help so many children get a good start back to school."