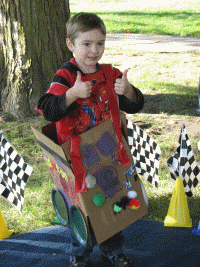 Over 300 men, women and children joined Mid Michigan Community Action in the Clare City Park for the third annual "Hot Wheels" car show to celebrate the importance of positive male role models in the lives of children.
Mid Michigan Community Action's Fatherhood Involvement program aims to help fathers, grandfathers, brothers, uncles and all males to become actively involved in the development of their children.
"Our goal has always been to provide free opportunities for families to come out and have fun at events that have something for everyone, Tracy Fair, Mid Michigan Community Action's Family Involvement Coordinator, said. "So many times, events are not relatable to dads and grandpas; our goal is to get dads, grandpas, brothers, and men actively involved because it helps them bond with the children in their lives."
Many were attracted to the assortment cars, motorcycles and off-road vehicles.
"We had such amazing participation, Fair said. Not only did we have guys bring out their cars, we also had men volunteering to work the craft booths and really working to make the event great."
In addition to the cars, several events including picture frame building, toy car building and painting, and cardboard box-car races made the event memorable for kids and adults. Free hot dogs, popcorn, cotton candy and refreshments were also served with homemade hot dogs being donated by J.T. Bakers.
"We could not have pulled off an event this great without the support of the community, Fair said. Volunteers from area businesses, the City of Clare, even some volunteers from ClareCastle all contributed to the success of the event; we could not have pulled it off without their support. We would also like to thank Clare United Way, as their support made this event possible."