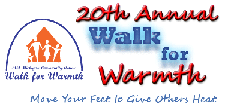 Many families across mid-Michigan are struggling to heat their homes this winter. With the struggling economy and more individuals and families hard hit by energy costs, Mid Michigan Community Action's Walk for Warmth campaign is critical in raising funds needed to assist those with heat emergencies.
February 26, 2011 will mark Mid Michigan Community Action's 20th Annual Walk for Warmth. Walkers from Bay, Clare, Gladwin, Mecosta, Midland and Osceola counties will raise funds to walk on Saturday to help heat homes. Registration is at 9 a.m. with the Walk starting at 10 a.m.
"The economy in Michigan is still struggling and a startling number of families are seeking help just to get by," said Sharon Wainman, Mid Michigan Community Action's outreach services director. "Walk for Warmth helps raise funds to assist families in who might not qualify for certain programs but still need help covering their home heating expenses."
Even those who manage to cover their monthly expenses may encounter an unexpected household emergency. That could mean household bills, including utilities, going unpaid. Mid Michigan Community Action provides support to households who need help with these heat and utility costs.
"With the economy still suffering and more people in need of assistance, it's even more crucial that we have a successful Walk for Warmth this year," Wainman said. "I would like to see the entire community out walking to raise awareness of this problem."
Last year, more than $46,000 was raised in Bay, Clare, Gladwin, Mecosta, Midland and Osceola Counties through Walk for Warmth. These funds helped 271 households with their heating costs and household emergencies, 36 of these households were in Midland County. Walk for Warmth has become even more crucial to serving those in the community with home heating costs and emergencies.
A few counties have a new Walk for Warmth location this year. Osceola walkers will take a new route while Bay and Midland counties will move from the local malls to Messiah Lutheran Church in Bay City and Trinity Lutheran Church in Midland to provide more visibility of the walkers.
"By having changing the walking routes, people can see the walkers and become aware that there is a problem in their community," Wainman said. "We want people to be aware of the problem and know they can make a difference in their community by donating, volunteering or participating in some way."
Walk for Warmth will be held February 26, 2011. Pledge sheets, online donations and Walk locations and times are available at www.mmcaa.org.
Mid Michigan Community Action Agency is a non-profit, human services agency serving Bay, Clare, Gladwin, Mecosta, Midland and Osceola Counties since 1966.
Walk for Warmth 2011 would not be possible without support from our sponsors from across mid-Michigan: Aquilex/Hydrochem Industrial Services, Chemical Bank, Consumers Energy, DTE Energy, Endless Journey Internet, Evart Lions Club Jay Trucks & Associates, Kehoe Realty, Michael Oil & Propane, Mid Michigan Tree Service, Stanford LP Gas, Timmo's Wood Sales and Outdoor Services, the Wooden Shoe Big Boys Club.