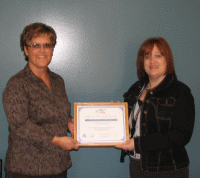 The UAW Local # 1974 continued strong support for their communities by donating $4,000 to Mid Michigan Community Action's Walk for Warmth which helps local residents who are struggling to pay for heat.
The donation, which will be split between Clare and Gladwin Counties, will go directly toward helping individuals and families who cannot afford their home heating bills. The Walk for Warmth fund helps hundreds of families annually.
"We could not be more appreciative of the generosity shown by the UAW," Sharon Wainman, Mid Michigan Community Action Outreach Services Director, said. "The need for help with heating seems to go up each year and donations like this help to make sure that no one has to go cold through the winter," she added.
As of March 31 (including the UAW donation) Mid Michigan Community Action has raised over $67,000—nearing the goal of $75,000.
"The UAW has shown that they are committed to help those in need in their communities," Wainman said. "We are so grateful for their ongoing support."
Mid Michigan Community Action Agency is a non-profit, human services agency serving Bay, Clare, Gladwin, Mecosta, Midland and Osceola Counties since 1966.