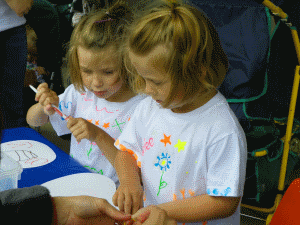 Now in its eighth year, Mid Michigan Community Action's Fun Day in the Park is a summer tradition for area children and families.
This year over 350 kids, families, volunteers and community partners turned out at Shamrock Park to provide families with a free, fun, informative day of activities and entertainment.
Children kept busy with fire truck tours, rousing entertainment from local musician, Matt Moore while parents visited sponsor booths where they received information about community services within a stress-free environment.
"This day is not only about having fun but for families to learn about what resources are available in our community," Joleen Golden, Mid Michigan Community Action Early Childhood Services Director, said.
Over 25 community organizations were involved in this year's Fun Day. St. Mary's of Michigan Field Neurosciences Institute provided bike helmets, Isabella Bank donated two children's bikes and PNC Bank donated child activity budgeting packets. Over 30 door prizes were given to area families.
"We are so happy to have the support of so many community organizations," Golden said. "The information provided to area families is invaluable."
Parents received information on local preschool programs, Early Head Start and enrollment requirements.
"Children really benefit from their experiences in preschool and are better prepared when they get to kindergarten," Golden said. "It's great that families are taking advantage of these programs."
Mid Michigan Community Action holds Fun Day in the Park each year to allow families a day of free food and fun in the park while receiving information that may benefit the family as well. More than 350 people attended this year's event.
Registration for Early Head Start and the preschool programs is still available. Contact the Clare & Gladwin Quality Preschool Partnership for preschool information for children ages 3-5 at 1-866-914-3700. For children 0-3, contact Mid Michigan Community Action's Early Head Start program at 1-877-386-4406.
Fun Day in the Park sponsors and organizers included: Mid Michigan Community Action, United Way of Clare County, Women's Aid, Mid Michigan Community College, Central Michigan District Health Department, Mid Michigan Medical Center, Hope Pregnancy Center, Listening Ear, Farwell Elementary School, John Q. Look Masonic Lodge No. 404, Great Start Collaborative, Rodnick Chiropractic, Clare-Gladwin Regional Education Service District, Early On, 1016 Recovery Network, Great Start Regional Resource Center/Quality Preschool Partnership, St. Cecilia Catholic School, Clare Fire Department, Cancer Services, Chippewa Nature Center, Clare Parks and Recreation, Clare United Methodist Child Care, St. Mary's of Michigan Field Neurosciences Institute, Matt Moore, Isabella Bank, and PNC Bank.
Mid Michigan Community Action Agency is a non-profit, human services agency serving Bay, Clare, Gladwin, Mecosta, Midland and Osceola Counties since 1966.