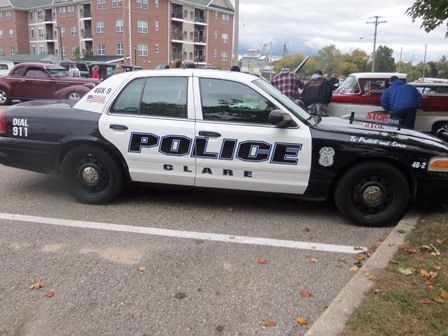 The Clare Fire Department and City Police stepped up to help ensure Mid Michigan Community Action's annual "Hot Wheels" Family Car Show was not swept away by high winds and rain showers.
Unpredictable autumn weather fell upon the event with a calm sunny morning during event set-up at the Clare City Park, but the afternoon turned dark, windy and rainy just a few hours before the event started.
"We always know this is a possibility for a fall event, but these winds were strong enough to pull four foot canopy stakes out of the ground," Tracy Fair, Mid Michigan Community Action Family Involvement Coordinator, said.
The Clare Fire Department and City Police have always participated in the event by bringing their vehicles for children and families to view. This year, they pulled their vehicles out of their bays so that the event's activities could be moved out of the weather. Department staff also assisted in moving the event activities from the park to the vehicle bays.
"The police and fire department really stepped up to make this event a success, despite the difficult weather," Fair said.
Approximately 200 children, families and volunteers braved the wind and rain to view over 21 cars, have some food, play games and learn about community resources. Local recording artist, Matt Moore also gave a live performance.
The Clare Masonic Lodge provided the MI-CHIP service for children with families to develop a child identification packet in case of an emergency. They also provided a team to grill all of the hotdogs.
--MORE--
Hot Wheels Event a Success, 2
"As always, our community partners helped make this an amazing event," Fair said. "We would also like to thank Clare United Way, as their support made this event possible."
Mid Michigan Community Action's Fatherhood Involvement program aims to help fathers, grandfathers, brothers, uncles and all males to become actively involved in the development of their children.
"Our goal has always been to provide free opportunities for families to come out and have fun at events that have something for everyone," Fair said. "So many times, events are not relatable to dads and grandpas; our goal is to get dads, grandpas, brothers, and men actively involved because it helps them bond with the children in their lives."
Mid Michigan Community Action Agency is a non-profit, human services agency serving Bay, Clare, Gladwin, Mecosta, Midland and Osceola Counties since 1966.