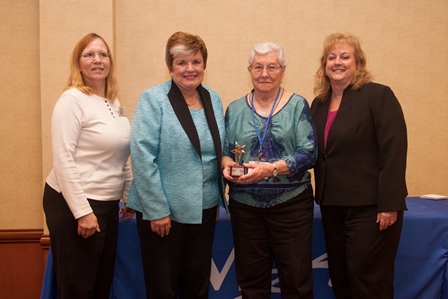 Zola Groh doesn't think she is special for dedicating dozens of hours a month, year after year for 38 years to a local nonprofit. Of course, she is special for doing so and recently received recognition to prove it. She was named Volunteer of the Year by the Michigan Community Action Agency Association this spring, for her work at Mid Michigan Community Action.
"I was pleased to receive the award. But I do the work because I just love to. It makes me productive. I get to see my friends and positively impact my community. I never did it to expect an award," said Groh.
Groh received her well-deserved award in Lansing earlier this spring in front of 29 Community Action Agencies, Michigan Department of Human Services director Maura D. Corrigan, and other supporters.
Groh has been lead volunteer with Mid Michigan Community Action's various food programs, including both Community Service Food Program (CSFP) and The Emergency Food Assistance Program (TEFAP). Never stopping short of exceptional service and ownership of responsibility, Groh sometimes delivers meals to homebound seniors herself, signs in other volunteers, has been responsible for finding the nonprofit a new home for one of its food sites (at her church Pinconning United Methodist) and much more.
"Zola is one of those remarkable people that we in the Community Action world are so thankful for. She tirelessly gives to our many causes with not only her heart and soul, but with her community connections and engaging spirit, too," said Jill Sutton, Mid Michigan Community Action Executive Director.
Important notes:
• CSFP and TEFAP slots are open. These federally funded food assistance programs are designed for low-income families and individuals. See if you qualify by calling 989-894-9060 in Bay County, 989-832-7310 in Midland County, or 989-386-3805 in Clare County.
May is National Community Action Month. Across the United States volunteers and other Community Action champions are being applauded for their intricate part in the success of Community Action. Helping people and changing lives from within the community being served has long been Community Action's cornerstone. We thank Zola Groh and the hundreds of volunteers who freely give their time and energy to support our mission.